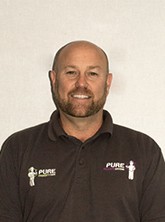 Michael Foster
DipSURV CSRT CSSW MIWsc – Managing Director
Michael is the Managing Director at Pure Basement Systems and is an experienced CSSW qualified surveyor specialising in basement waterproofing and dampness in buildings.
Michael has been actively engaged in the construction industry for 30+ years and in basement waterproofing and conversion for over 20 years. On a day to day basis he performs basement waterproofing surveys, designs basement waterproofing systems, co-ordinates and manages basement conversion projects, and manages the business side of the company. He has been trained both in the UK and USA on various aspects of basement waterproofing design, basement waterproofing installation and basement conversion. Michael is an industry qualified Certificated Surveyor in Structural Waterproofing – this level of professional qualification and experience ensures that Pure Basement Systems clients get expert advice about their basement waterproofing and conversion projects.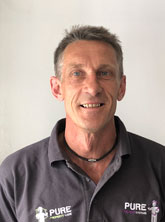 Dave Bowyer
Basement Waterproofer and Groundworker
Dave has several years' experience within the Basement Conversion Industry and enjoys the variety of work he is involved in. Having joined PURE two years ago, and with a keen eye for detail, Dave is primarily involved in the early stages of our Basement Projects i.e. enabling, preparation and waterproofing before our plasters and joiners get started.
Outside of work Dave enjoys being with his family and Boxer dog. He also likes caravanning and golf.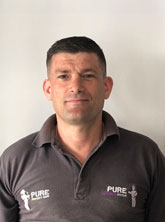 Justin Hainsworth
Lead Dry Liner and Plasterer
Justin has a wealth of plastering knowledge having worked in the plastering trade for over 20 years and has been an employee at PURE for 2 years.
Justin loves being a family man, but now has only 1 big dog and 2 cats still living at home!! In his leisure time he enjoys reading, martial arts and eating out.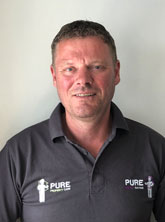 Andrew Wood
Construction Supervisor, Senior Joiner and Team Leader
Andrew joined the PURE team over a year ago and having been in the trade for over 30 years he brings a wealth of knowledge and experience to the Company.
A family man with 2 dogs, in his free time Andrew enjoys skiing, cycling and walking.
Steve Morley
Multi Skilled Tradesman, Dry Liner & Plasterer
With over 18 year of working in the trade, Steve has applied his skills and experience at PURE since starting with us 2 years ago.
When not working, Steve enjoys spending time with his family and socialising with friends.
Christine Colquhoun
Project Administration Manager
Christine has extensive experience in administration and customer service gained in the financial services and property management sectors. She prides herself on offering all our clients an excellent customer experience. Christine is married with 2 grown up daughters and two gorgeous spaniels who she enjoys walking in her spare time.